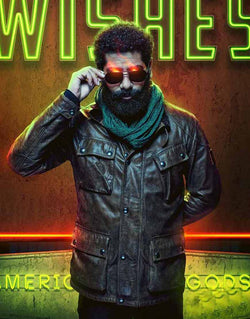 American Gods Mousa Kraish Jacket
American Gods Mousa Kraish Jacket:
American Gods beings is a 2017 exemplary show television series. The series is extremely famous among the young people and has a rating of 7.8 that is expanding as time passes. The series rotates around an ex-convict who has as of late been let out of prison, and a man named shadow. For every one of the aficionados of the series, we have quite recently added the American Gods beings S02 Mousa Kraish Jacket to our most recent assortment. The Jacket is fabricated from top notch and real Leather material. Within the coat is fixed with a delicate layer of gooey that makes the coat more agreeable for you. The collapsing style neckline and secured conclusion keep up with the strong look of the earthy colored Jacket. With four front fold pockets, the Jacket is advantageous to wear while voyaging. The earthy colored Jacket has full-length sleeves with snap tab fastened sleeves, giving the style an easygoing look that is ideal for regular outfits.