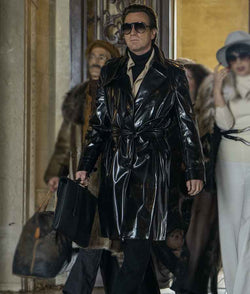 Halston Ewan McGregor Leather Coat
Halston Ewan McGregor Leather Coat:
Stylish and cheeky
Ewan McGregor Halston Leather Coat
are wore by the personality of Halston to advance the best look. In the American streaming TV miniseries Halston the person is performed by the splendid Ewan McGregor. Very rich this top layer is revered by the style fixated characters and thought about in excess of a garment rather it is viewed as sacred by the design police. Whenever spectators spot you in the clothing they will feign exacerbation with the sensation of commendation.
Halston Ewan McGregor Leather Coat
is a shocking article planned with faux Leather material supplemented by the covering of thick. Its reflexive dark layer is enhanced with belted shutting. Lapel collar alongside Full-length sleeves and round sleeves are the most brilliant highlights of the coat. Remember to see two side abdomen pockets.