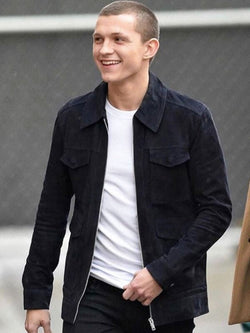 TheJacketFactory
Holland Suede Leather Jacket
HOL­LAND SUEDE LEATHER JACKET:
Holland suede leather jacket
is so classic. While Tom Hol­land has attempted this outerwear in an irregular appearance, his fans have been madly frantic to make it a piece of their wardrobe. The Black Suede Tom Holland Leather Jacket includes a zippered conclusion with a shirt style neckline to ensure your appearance dazzles your companions, hence. Thin fit and simple to wear, it made of the best material accessible. This thick article is your smartest option to battle the colder time of year climate with. Add As seen on In­sta­gram Tom Hol­land Worn Suede Leather Jacket to your outerwear assortment and convince yourself to utilized to of relaxed extras for an extensive stretch, hence. Change from formal to easygoing and let this outerwear serve you like no other. The Tom Holland Uncharted Jacket produced using certifiable cowhide. The coat is accessible in an astounding dark variety that gives the coat a tasteful and voguish look. The Nathan Drake Leather Jacket has a shirt style neckline with a fastened conclusion which makes it simple to wear. The inward of the coat comprises of a delicate thick covering which gives solace to the wearer. The sleeves of the Tom Holland Uncharted Jacket are long and fitting with open trim sleeves. To keep stuff, the coat has two fluttered chest pockets and two side abdomen pockets which makes it really engaging. The predominant quality sewing makes the Nathan Drake Leather Jacket solid to wear. The coat is ideal for a night out and is the decision of slick men.