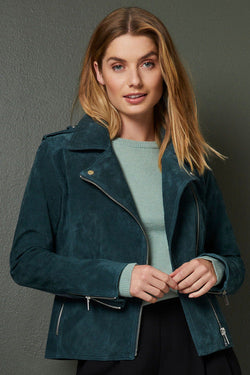 TheJacketFactory
Capture Suede Leather Jacket
Product Specifications:

Outer Material: Suede Leather
Inner Material: Polyester Lining 
Front zip pockets
Long sleeves with zip cuffs and ribbed undersides
Collar and lapel
 Zip through front with dome closure
 Fully lined
Shoulder tabs
Color: Dark Green
Capture Suede Leather Jacket:
Capture suede leather jacket
is so snazzy wear. There is no doubt that a calfskin biker coat is an absolute storeroom must-have. Furthermore, Capture have provided us with an immaculate translation of the commendable style with the Suede Biker Jacket - open in two adaptable and basic wearing assortment ways. All of the commendable parts feature on this imperishable piece. For instance, shoulder tabs, vault hook features on the lapel, a blaze through interminably front zip pockets. A major name Leather Jacket is ceaselessly something that will in everyday catch the interest of a singular like in no time flat; this Vintage Jacket made using the best quality cowhide being a choice between counterfeit calfskin and relaxed cowhide. The outer layer of  Unique Style Black
Suede Leather Jacket
by and large around the front. Furthermore, back is truly surprising and essential and eliminates seeing an individual immediately. This capture Suede Leather Jacket done in the most smooth manner and the base is all dull in assortment. The front outfitted with the zipper end and has collars featured with the studs at the edges. Totally fixed and with a commending flimsy fit, there's not an undeniable clarification to pass by this mind boggling coat. Coordinate with a lightweight printed dress and lower leg boots for a simple look.